9 Reasons Why Some Homes Sell Faster
Beyond the obvious elements such as location and size, here are nine factors that can affect how quickly your home sells…READ MORE

Want to Help Your Kids Buy a House?
Better Read This First
Buying a home is increasingly a multigenerational family affair. Four in 10 parents recently surveyed said they expect to help their children buy a home. That's more than double the percentage of parents who themselves got help from their parents when they bought their first home. Home prices that have been rising faster than wages, combined with burdensome levels of student debt, are fueling this trend. Moreover, helping with homeownership is a ...READ MORE
We are committed to providing a premier level of 
service.

 
All aspects of your real estate experience will be accompanied by Results through exceptional Service and Honesty. From the onset of our marketing meeting, we are dedicated to achieve your goals. 
The Current Miami Springs Market
The Miami Springs & VG markets continue to be strong.
Inventory remained stable.
This is good for buyers and sellers
36 active listings this week, with 4 new ones
5 closed sales this week
9 listings under $400,000
13 active listings are priced over $500,000
2 properties are listed over $1,000,000. One of the Million+ properties closed this week for 1,500,000, and another is pending sale.
21 active listings have had a price reductions (4 this week).
What does this mean? Usually, the property was overpriced from the beginning. The sellers are recognizing the market is changing. Prices are not increasing as fast as the last several years. Sellers should not miss potential buyers and deal with increased competition.
Some experts and some buyers are concerned about a possible recession next year.
The Feds expect another rate reduction this year.
Prices remain strong.
Mortgage Interest rates remain low.
Sellers that haven't been able to sell their property in this market should re-evaluate their pricing, strategy and adjust accordingly based on their market circumstance.
Timing is everything. If you re on the fence about selling, get off and put your house on the market.
During the period of October 11, 2019, through October 18, 2019 there were reported 4 new listings, 5 closed sales, 5 pending sales, 1 active with contract, 1 expired listing, 1 cancelled listing, 0 Temp off market, 4 price reductions and 0 price increase. Interest rates remain very good. A GREAT TIME TO BUY OR SELL.
 Attention Sellers!
Low Inventory + Low Interest rates + Increasing prices = Sellers Market.
The Market will change. Act Now!
The table below shows the current status of the Miami Springs/VG real estate market as of Friday, October 18, 2019. All closed sales are within the last 90 days.
HOW DOES YOUR HOUSE COMPARE?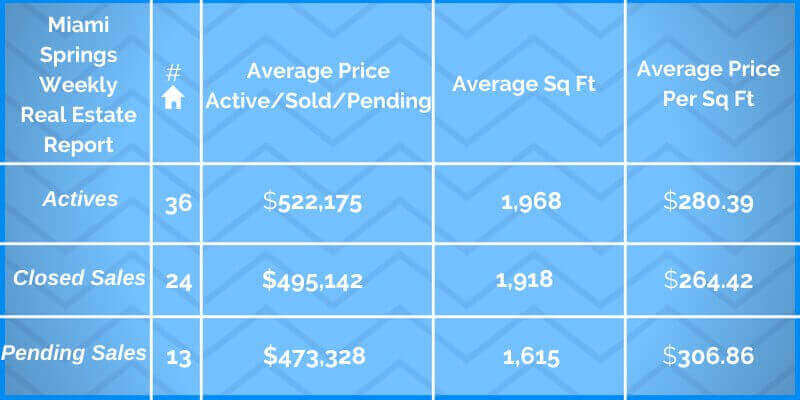 *Disclaimer: The data relating to real estate displayed on this website and the chart above comes from the Miami Board of Realtors MLS. All listing information is deemed reliable but not guaranteed and can be independently verified.
 A complete list of all the properties for sale in Miami Springs or any other area of Miami-Dade County can be sent to you on regular basis. Request it at:  charlie@leonardrealestategroup.com
………………………………………………..……………………………………………………………………………
We are the Miami Springs Experts
however, we service all of South Florida
Let Us Show You How We Can Get Your Property Sold
at the Highest Possible Price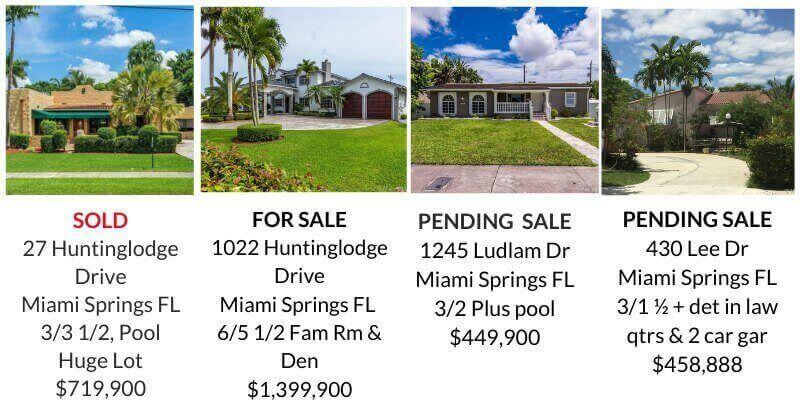 What are You Waiting For?
We can provide you with a market





analysis so you can see how much 





your property is worth.
Honesty | Service | Results
Drop by to see us 
190 Westward Drive
or call us 305-726-

8416
Appointments available upon request
Beautiful Miami Springs. Tree City USA.
Our secret paradise in Miami Dade County!
STAY INFORMED!
Thank You
Charlie 305-726-8416
Share This: