Existing Home Sales Fall for 9th Straight Month
What Happened This Month:
Existing home sales weakened further in October, following a sharper pullback in September pending home sales. Existing home sales were at a pace of 4.43 million, down 5.9% from September and 28.4% from one year ago, their ninth consecutive month-to-month decline.  The October existing home sales pace was just above the lowest two months of the early pandemic and otherwise at the lowest pace in 10 years.
A summer lull in mortgage rates, from mid June until early August, followed by a sharp spike from August to late October likely accelerated purchasing timelines for some shoppers contributing to this month's slowdown. Others, who might have continued searching into the fall season, likely had their plans cut short as rising mortgage rates moved the affordability of buying a home out of reach. In the weeks ahead, we will see if the latest turn in mortgage rates, a drop to 6.61%, will motivate sidelined shoppers to reconsider buying in the near future.
For many, the week-to-week volatility in mortgage rates alone, which in 2022 has been three times what was typical, may be a good reason to wait. With week-to-week changes in mortgage rates causing $100+ swings in monthly housing costs for a median-priced home, it's tough to know how to set and stick to a budget.
If so, home sales are likely to remain at lower levels, and we'll see home price deceleration in the months ahead.....READ MORE
---
We are committed to providing a premier level of 
service.

 
All aspects of your real estate experience will be accompanied by Results through exceptional Service and Honesty. From the onset of our marketing meeting, we are dedicated to achieve your goals. 
---
The Current Miami Springs Market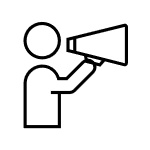 TIME TO BUY OR SELL?
CALL US FOR AN EVALUATION
There are thirty-four (34) active listings in the MS/VG market this week, an increase since last week. The inventory had averaged approximately 20-25 listings the last several months. I expect continued increases in the months ahead. But who knows in this market! Pending sales have slowed. A definite sign that sales have slowed down. Values remain strong in Miami Springs and Virginia Gardens, for now. Despite interest rate increases, there are still many qualified Buyers out there, BUT as rates increase, there WILL be fewer Buyers! The market is starting to transition, and Sellers are no longer in the driver's seat. Please refer to the articles posted on our website.
Thirty-three (33) of the active listings are priced over $500,000. Five (5) properties are listed between 1-2 million dollars. Two (2) are listed for OVER 2 million dollars! Eleven (11) of the active listings have had a price reduction; three this week. We are transitioning to a Buyers' market due to decreased demand and higher mortgage interest rates. More interest rate increases are coming in the next month, which means fewer Buyers and likely increases in inventory.
MULTIPLE OFFERS HAVE DROPPED AND DEMAND IS SLOWING!
Mortgage interest surprisingly dropped below 6.0% this week, but expect rates to increase. There are still serious qualified Buyers looking for the right property. Timing is everything! Multiple offers are less common and properties are staying on the market for more days. The demand remains high for properties under $500,000. There is one (1) listing just under $500,000. The low inventory at entry-level and higher interest rates make it difficult for most first-time Buyers. One (1) property is priced between $400,000-$500,000. Four (4) properties are priced between $500,000-$600,000; eleven (11) between $600,000-$700,000; seven (7) between $700,000-$800,000; one (1) between $800,000-$900,000; three (3) between $900,000-$1,000,000; five (5) between $1-2 million; and two (2) are listed for over $2 million.
SELLERS, THIS IS THE MOMENT TO PRICE IT RIGHT!
Increasing Inventory + Increasing Interest Rates  = Less Demand.

---
During the period of November 11, 2022 through November 18, 2022, there were reported 5 new listings, 2 closed sales, 0 pending sales, 2 active with contract, 1 expired listing, 1 cancelled listing, 0 temp off market, 3 price reductions, and 0 price increases. 
---
HOW DOES YOUR HOUSE COMPARE?
The table below shows the current status of the Miami Springs/VG real estate market as of Friday, November 18, 2022. All closed sales are within the last 90 days.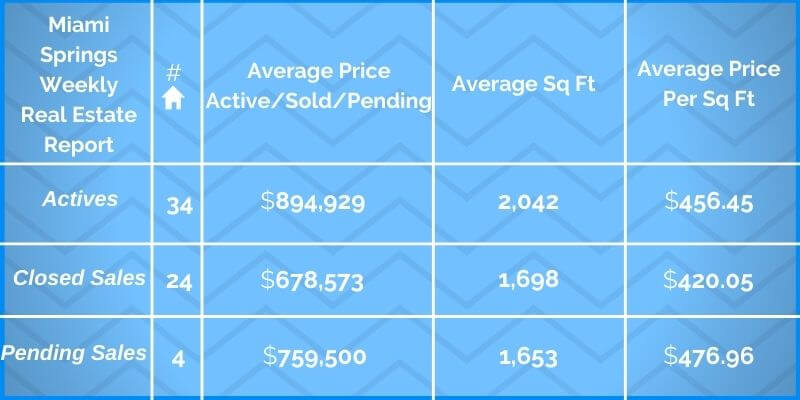 *Disclaimer: The data relating to real estate displayed on this website and the chart above comes from the Miami Board of Realtors MLS. All listing information is deemed reliable but not guaranteed and can be independently verified.
 

A complete list of all the properties for sale in Miami Springs or any other area of 





Miami-Dade County can be sent to you on regular basis. 





Request it at:

  charlie@leonardrealestategroup.com


………………………………………………..……………………………………………………………………………
We are the Miami Springs Experts
however, we service all of South Florida
Let Us Show You How We Can Get Your Property Sold
at the Highest Possible Price

What are You Waiting For?
We can provide you with a market





analysis so you can see how much 





your property is worth.
Honesty | Service | Results
Drop by to see us
190 Westward Drive
or call us 305-726-

8416
Appointments available upon request
Beautiful Miami Springs. Tree City USA.
Our secret paradise in Miami Dade County!
STAY INFORMED!
Thank You
Charlie 305-726-8416
Share This: