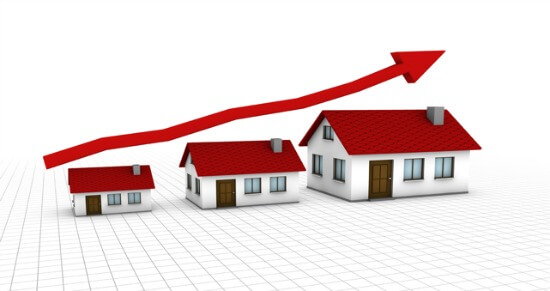 Annual Appreciation Losing Momentum
Annual appreciation in February kept slowing, with gains grinding to 4 percent, according to the latest national S&P CoreLogic/Case-Shiller Indices. One month prior, appreciation was north of 4 percent, and in February of last year, 6.3 percent. After hitting a peak in the recovery, appreciation has been losing momentum in recent years, and both new and preowned sales have struggled, says David M. Blitzer, chairman and managing director of the S&P Dow Jones Indices Index Committee.
"Homes began their climb in 2012 and accelerated until late 2013, when annual increases reached double digits," …READ MORE

How to Clean Out a Deceased Loved One's Home
Without Burning Out Emotionally
After the loss of a loved one, the thought of sorting through that person's belongings can be heart-wrenching. But in many situations, there's no time to delay, especially if you're in a time crunch to get a late family member's house ready to sell.
Before you embark on the emotional task of sorting through a loved one's possessions, check out these tips from experts on where to begin the process, how to find support and resolve disputes, and—most importantly—how to take it easy on yourself as you grieve.…READ MORE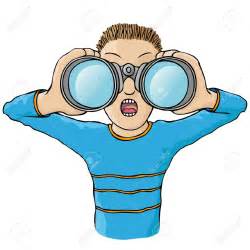 We are committed to providing a premier level of 
service.

 
All aspects of your real estate experience will be accompanied by Results through exceptional Service and Honesty. From the onset of our marketing meeting, we are dedicated to achieve your goals. 
The Current Miami Springs Market
Inventory was up this week with 41 active listings.

There were three (3) new listings.

Closed sales 4!  

Of the 41 active listings, twenty (20) are listed over $500,000.

There are now 3 properties listed over $1,000,000.

Of the active listings thirteen (13) have had a price reduction. What does this mean? Usually, the property was overpriced from the beginning. The sellers are recognizing the market is changing. Prices are not increasing as fast as the last several years.

Sellers should not miss potential buyers and deal with increased competition.
The Miami Springs & VG markets continue to be very strong. The demand is high for properties under $400,000. There are only 6 listings under $400,000. How long will this sellers' market last? Experts say a shift is on its way. Sellers that haven't been able to sell their property should really evaluate their position in the market and adjust accordingly based on their circumstance. Prices remain strong. Interest rates are low.
Timing is everything
During the period of April 26th, 2019, through May 3rd, 2019 there were reported 3 new listings, 4 closed sales, 3 pending sales, 0 expired listings, 0 cancelled listings. There are still very good buying opportunities for buyers especially since interest rates remain very good.
 Attention Sellers!
Low Inventory + Low Interest rates + Increasing prices = Sellers Market.
The Market will change. Act Now!
The table below shows the current status of the Miami Springs/VG real estate market as of Friday, May 3rd, 2019. All closed sales are within last 90 days.
HOW DOES YOUR HOUSE COMPARE?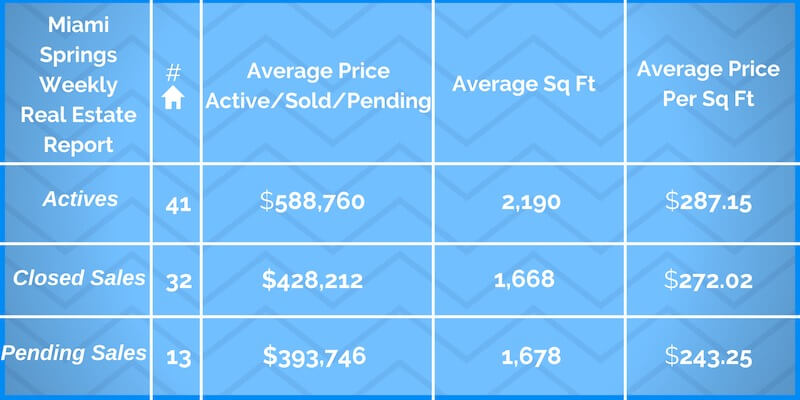 *Disclaimer: The data relating to real estate displayed on this website and the chart above comes from the Miami Board of Realtors MLS. All listing information is deemed reliable but not guaranteed and can be independently verified.
 A complete list of all the properties for sale in Miami Springs or any other area of Miami-Dade County can be sent to you on regular basis. Request it at:  charlie@leonardrealestategroup.com
………………………………………………..……………………………………………………………………………
We are the Miami Springs Experts
however, we service all of South Florida
Let Us Show You How We Can Get Your Property Sold
at the Highest Possible Price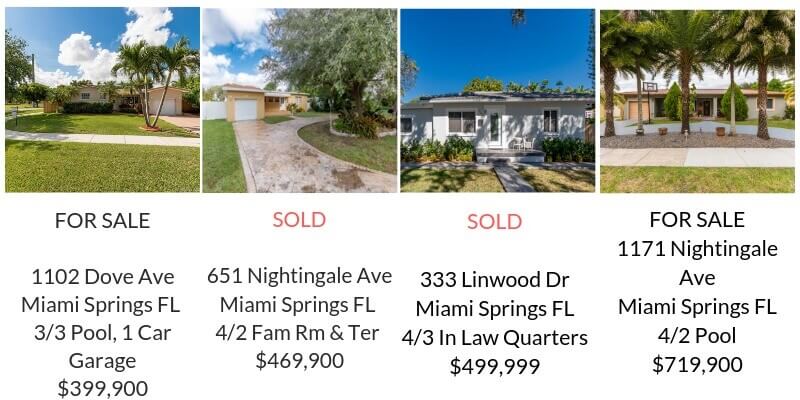 What are You Waiting For?
We can provide you with a market





analysis so you can see how much 





your property is worth.
Honesty | Service | Results
Drop by to see us 
190 Westward Drive
or call us 305-726-

8416
Appointments available upon request
Beautiful Miami Springs. Tree City USA.
Our secret paradise in Miami Dade County!
STAY INFORMED!
Thank You
Charlie 305-726-8416
Share This: