COMPETITION FOR HOMES IS HEATING UP AGAIN
via zillow.com — The typical U.S. home value climbed 1.0% from March to April, the strongest growth since last June, and relatively normal for this time of year. Still, a "normal" springtime seller's season represents a remarkable turnaround from the second half of 2022, which was much cooler than normal as buyers retreated in the face of affordability challenges. Those challenges are still acute – despite being 2.2% lower than its peak last July, the Zillow Home Value Index is still 1.5% higher than one year ago and 38% higher than in April 2020, an 11% average annual growth rate over the past 3 years.
April data indicate that housing has returned to a seller's market. Buyers flock to open houses at this time of year in hopes of securing a home in time to move in by early summer, yet this year will see far fewer new listings than "normal", too.
There were 28.0% fewer new listings than last April, an even steeper year-over-year drop than observed in March (-22.2%). Remarkably, there were slightly fewer (-0.5%) new listings in April than in March, defying the typical seasonal trend of climbing new listings.
All told, about half a million fewer new listings have entered the market in the first four months of 2023 than in 2019's first four months – a deficit of 30%. Many would-be sellers don't want to let go of their homes, on which they're paying about 3% in mortgage interest in many cases, when they'd have to pay 6% or more on a new 30-year loan. The low flow of new listings is slowing down normal seasonal gains in total inventory
Active inventory in April was only up 2.9% from last year and stands a whopping 45.8% below April 2019 levels. That minuscule year-over-year growth is a major step down from recent months: In January, home shoppers benefited from 19.5% more active listings to choose from than in January of last year. The very low inventory is likely a major reason that home prices have begun to rise again.…READ MORE
---
We are committed to providing a premier level of 
service.

 
All aspects of your real estate experience will be accompanied by Results through exceptional Service and Honesty. From the onset of our marketing meeting, we are dedicated to achieve your goals. 
---
The Current Miami Springs Market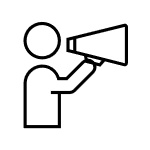 TIME TO BUY OR SELL?
CALL US FOR AN EVALUATION
There are sixteen (16) active listings in the MS/VG market this week. Still very low inventory this week. I continue to expect that inventory will slowly increase, but that has not happened so far this year. We are truly in a unique market, where anything is possible. Pending sales have increased. Values do remain strong in Miami Springs and Virginia Gardens, but we have seen some list-price decreases. Despite interest rate increases, there are still many qualified Buyers out there. With light inventory and high demand, the market is starting to transition back to a Sellers' market. Please refer to the articles posted on our website.
All of the active listings are priced at $525,000 or above. Three (3) properties are listed between 1-2 million dollars. One (1) is listed for over $2 million. Seven (7) of the active listings have had a price reduction; one this week. We had been transitioning to a more neutral market. However, the continued light inventory and continued demand, despite higher mortgage rates, makes it difficult for first-time buyers. Expected interest rates increases in the future means fewer buyers. We still anticipate inventory increases.
DEMAND IS STILL THERE!
Mortgage interest rates have been between 6% and 7% this past month. There are still serious qualified Buyers looking for the right property. Timing is everything! Multiple offers are much less common and the number of days properties are staying on the market is averaging 64 days. The demand remains high for properties under $500,000. There are no listings under $500,000. The low inventory at entry-level, higher interest rates, and homeowner insurance premiums make it difficult for many first-time Buyers. No properties are priced between $400,000-$500,000. Five (5) properties are priced between $500,000-$600,000; three (3) are priced between $600,000-$700,000; none (0) are between $700,000-$800,000; three (3) between $800,000-$900,000; one (1) between $900,000-$1,000,000; three (3) between $1-2 million; and one (1) is listed for over $2 million.
SELLERS, THIS IS THE MOMENT TO PRICE IT RIGHT!
Increasing Inventory + Increasing Interest Rates  = Less Demand.

---
During the period of May 5, 2023 through May 12, 2023, there were reported 1 new listing, 5 closed sales, 0 pending sales, 0 active with contract, 1 expired listing, 1 cancelled listing, 0 temp off market, 1 price reduction, and 1 price increase. 
---
HOW DOES YOUR HOUSE COMPARE?
The table below shows the current status of the Miami Springs/VG real estate market as of Friday, May 12, 2023. All closed sales are within the last 90 days.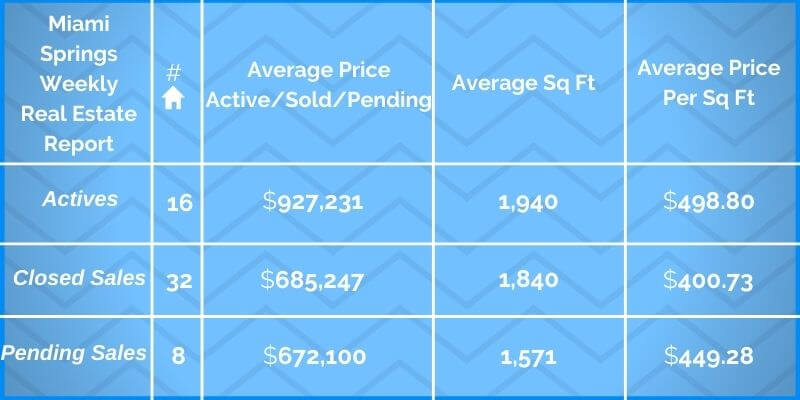 *Disclaimer: The data relating to real estate displayed on this website and the chart above comes from the Miami Board of Realtors MLS. All listing information is deemed reliable but not guaranteed and can be independently verified.
 

A complete list of all the properties for sale in Miami Springs or any other area of 





Miami-Dade County can be sent to you on regular basis. 





Request it at:

  charlie@leonardrealestategroup.com


………………………………………………..……………………………………………………………………………
We are the Miami Springs Experts
however, we service all of South Florida
Let Us Show You How We Can Get Your Property Sold
at the Highest Possible Price
What are You Waiting For?
We can provide you with a market





analysis so you can see how much 





your property is worth.
Honesty | Service | Results
Drop by to see us
190 Westward Drive
or call us 305-726-

8416
Appointments available upon request
Beautiful Miami Springs. Tree City USA.
Our secret paradise in Miami Dade County!
STAY INFORMED!
Thank You
Charlie 305-726-8416
Share This: