What the housing market correction
will do to home prices in 2023
There's no doubt about it: The Pandemic Housing Boom was an inflationary engine. Elevated homebuyer demand during the pandemic simply overwhelmed inventory. It translated into fierce bidding wars and double-digit home price growth. Soaring home prices gave landlords an opening to jack up rents. It also saw builders push homebuilding to levels not seen since 2006. Of course, an elevated builder demand for steel, lumber, and refrigerators only put further stress on an already maxed out global supply chainIn the eyes of the Fed, it's time to stop that Pandemic Housing Boom. That's why the Federal Reserve pulled the housing e-brake: mortgage rates.
The Fed doesn't set mortgage rates, however, it has the levers available to put upward or downward pressure on mortgage rates. During the early weeks of the pandemic, the Fed kicked off an unprecedented bond buying spree (i.e. quantitative easing). That saw financial markets push mortgage rates to historic lows. This year, the Fed transitioned to bond selling (i.e. quantitative tightening). As a result, financial markets pushed up the average 30-year fixed mortgage rate from 3.1% to 5.7% over the past six months.
Central bankers knew what they were doing.
This swift move-up in mortgage rates has pushed the U.S. housing market—which has seen home prices spike 39.8% since March 2020—into a full-blown housing correction. Those higher mortgage rates mean that homebuyers are finally feeling the full-brunt of record home price appreciation. Some borrowers.…READ MORE
---
We are committed to providing a premier level of 
service.

 
All aspects of your real estate experience will be accompanied by Results through exceptional Service and Honesty. From the onset of our marketing meeting, we are dedicated to achieve your goals. 
---
The Current Miami Springs Market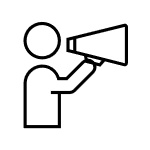 A GREAT TIME TO SELL!
There are twenty-one (21) active listings in the MS/VG market this week. No change from last week. The inventory remains low, but has started to increase the last 3-4 weeks. It has averaged under 15 listings the last several months. I expect continued increases in inventory in the months ahead. Pending sales have started to drop a bit. Values are still strong in Miami Springs and Virginia Gardens. Despite interest rate increases, there are still many qualified Buyers out there, BUT as rates increase, there WILL be fewer Buyers! It is still a Sellers' market, for now. Please refer to the articles posted on our website.
Twenty (20) of the active listings are priced over $500,000. Seven (7) properties are listed over 1 million dollars! Two (2) of the active listings have had a price reduction this week. We remain in a Sellers' market due to high demand and low inventory, but that will start to change. More interest rate increases are coming in 2022. We anticipate that inventory will continue to increase.
MULTIPLE OFFERS AND LISTINGS SELLING OVER LIST PRICE ARE THE NEW NORMAL!
Mortgage interest rates have increased to over 5.0%; expect more increases. There are still serious qualified Buyers looking for the right property. Timing is everything! The demand remains high for properties under $500,000. There is one listing just under $500,000. This low inventory and interest hikes make it difficult for most first-time Buyers. Multiple offers are becoming less common in today's market.  One property is priced between $400,000-$500,000. Five (5) properties are priced between $500,000-$600,000; four (4) between $600,000-$700,000; one (1) between $700,000-$800,000; two (2) between $800,000-$900,000; one (1) between $900,000-$1,000,000; and seven (7) are priced over $1 million.
SELLERS, THIS IS YOUR MOMENT!
Low Inventory + Low Interest Rates  = Seller's Market.
SELL NOW!
---
During the period of July 1, 2022 through July 7, 2022, there were reported 1 new listing, 2 closed sales, 0 pending sales, 1 active with contract, 3 expired listings, 0 cancelled listings, 1 temp off market, 2 price reductions, and 0 price increases. 
---
HOW DOES YOUR HOUSE COMPARE?
The table below shows the current status of the Miami Springs/VG real estate market as of Friday, July 7, 2022. All closed sales are within the last 90 days.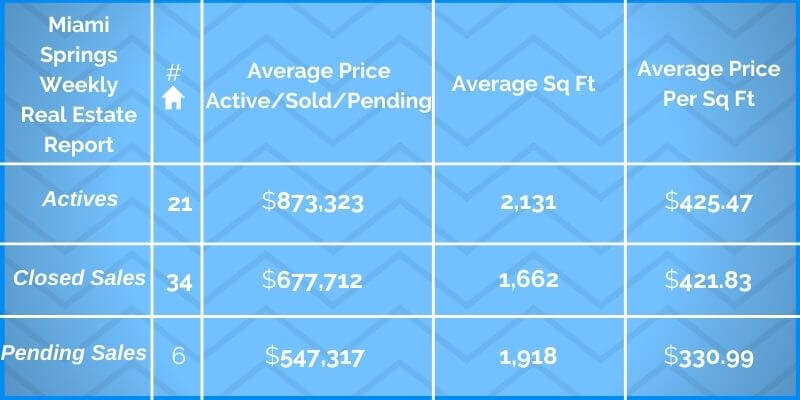 *Disclaimer: The data relating to real estate displayed on this website and the chart above comes from the Miami Board of Realtors MLS. All listing information is deemed reliable but not guaranteed and can be independently verified.
 

A complete list of all the properties for sale in Miami Springs or any other area of 





Miami-Dade County can be sent to you on regular basis. 





Request it at:

  charlie@leonardrealestategroup.com


………………………………………………..……………………………………………………………………………
We are the Miami Springs Experts
however, we service all of South Florida
Let Us Show You How We Can Get Your Property Sold
at the Highest Possible Price
What are You Waiting For?
We can provide you with a market





analysis so you can see how much 





your property is worth.
Honesty | Service | Results
Drop by to see us
190 Westward Drive
or call us 305-726-

8416
Appointments available upon request
Beautiful Miami Springs. Tree City USA.
Our secret paradise in Miami Dade County!
STAY INFORMED!
Thank You
Charlie 305-726-8416
Share This: